About Richard Amon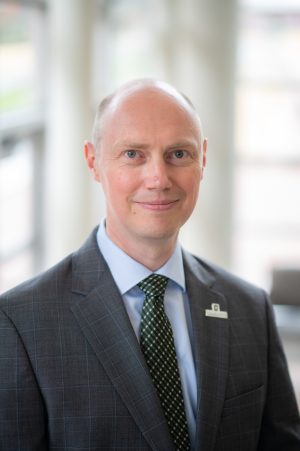 Richard Amon assumed the role of vice chancellor for business affairs on Jan. 4, 2022. In this role, he serves as the University's chief financial and administrative officer. Reporting directly to Chancellor Sharon L. Gaber and serving as a member of her cabinet, he is responsible for the institution's fiscal management, facilities development and operation, human resources, public safety and emergency management, business continuity and auxiliary services.
Amon brings more than 18 years of financial and operational management experience to this position. In his prior role at the Utah System for Higher Education, he oversaw system institutional finances, budgets, business operations and capital facilities. Among his accomplishments were creating a legislative formula for state funding of institutional student enrollment growth, developing a model to measure institutional affordability for Utah students and a performance funding model to incorporate system attainment goals in access, completion and workforce development that resulted in improved accountability and funding. Amon also led a systemwide effort to revise student fees that resulted in an 11.5% reduction to fees.
Prior to his work in higher education, Amon served as the deputy executive director for the Utah Department of Administrative Services, where he directed seven divisions providing centralized services to state agencies with 478 employees and $230 million in revenue. He also worked as a fiscal analyst for the Utah State Legislature, a budget analyst for Utah Governor Jon Huntsman and an actuarial associate for a pension consulting firm in Philadelphia.
Amon earned a Bachelor of Science in statistics and a Master of Public Administration from Brigham Young University and a Doctor of Philosophy in political science from the University of Utah, where his dissertation research focused on shared services in public organizations.
CONTACT INFORMATION
Phone: 704-687-5750
Email: ramon@charlotte.edu