Get to Know: Maddy Lohmeier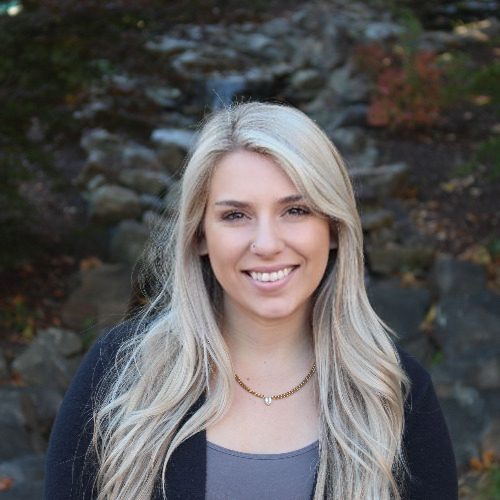 Maddy Lohmeier brings her love of the environment to her role as the sustainability & marketing coordinator for dining services at UNC Charlotte. Learn more about her position, her care for bees, and her journey to working in sustainability.
How would you describe your role and responsibilities as the sustainability & marketing coordinator?
As the sustainability and marketing coordinator, I focus on ways that we can help engage students with sustainability initiatives. I specifically focus on sustainability in relation to dining services. UNC Charlotte has 3 bee hives located on campus and I am in charge of their overall care. I work on increasing the awareness about pollinator conservation, as well as ways in which we can use their honey within our Teaching Kitchens. I also monitor our Hydroponic Towers daily. These towers are located at SoVi and help provide fresh produce to our dining halls. These are also a great educational tool that can be used to represent sustainable agriculture. I also directly partner with the Office of Sustainability and work alongside them to meet our common goal. While working with faculty, staff and students, I help produce ways in which we can better market sustainability on campus and get students involved in what we are trying to accomplish.
What does your typical workday look like?
My typical workday involves a lot of event planning, whether it is tablings, teaching kitchens, or creating giveaways for students. My first stop of the day is always SoVi, so I can check on the Hydroponic Towers and see how the produce is doing. I then spend a lot of time with our marketing team and I help create ideas on how we can spread sustainability awareness through our social media platforms.
What drew you to work in sustainability?
Ever since I was young I knew I was passionate about the environment. I was able to live overseas in both Germany and Japan for about 10 years of my life. I grew interested in the ways that different countries and cultures viewed the environment and I was able to see firsthand how their relationships varied. The human-nature bond can be a beautiful thing to discover, and it was through these experiences that I knew I wanted to work in sustainability.
What is your favorite place on campus and why?
My favorite place on campus is SoVi because I love being able to walk past the pond and all the trees before enjoying a tasty lunch!
What do you like to do for fun outside of work?
When I am not at work, I love to spend time with my three dogs. I enjoy hiking and exploring all the things that Charlotte has to offer.
What's a sustainability service or program at UNC Charlotte that you wish more people knew about?
I wish more people knew about the bee hives that were located on campus. This is a project that can be used in so many ways, whether it is for educational use, or by providing fresh, local honey to faculty, staff and students. This is an exciting opportunity for the university and I would like to see more students engaged with this project.