About the Associate Vice Chancellor
John Bogdan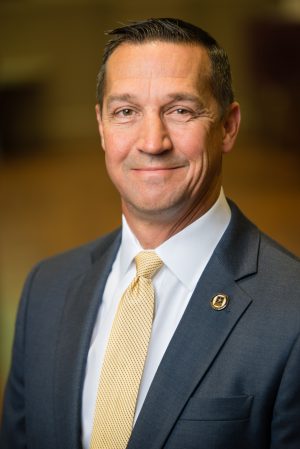 John Bogdan, a retired U.S. Army colonel, was appointed the associate vice chancellor for safety and security in early 2019. Bogdan is responsible for the coordination and oversight of the plans and programs that protect lives and property, prevent accidents and incidents, and preserve the learning environment and business operations of the University. This includes police and public safety, environmental health and safety, emergency management, and risk management and insurance.
Bogdan most recently served as the chief of police and chief of operations for Forces Command, headquartered at Fort Bragg, North Carolina. During his time at Fort Bragg, he also led the crisis action team in planning and executing its response to Hurricane Matthew. Prior to this, Bogdan held such positions as the chief of force protection and homeland defense division at Peterson Air Force Base, brigade commander at Naval Station Guantanamo Bay and chief of operations for the Office of the Provost Marshal General at the Pentagon, among many other assignments.
Bogdan holds a bachelor's degree in physics from Virginia Commonwealth University, a Master of Arts in business and security management from Webster University and a Master of Science in national security strategy from the National Defense University. He also received a criminal justice certificate from the University of Virginia.
Q&A
Q: What attracted you to the AVC of safety and security role at UNC Charlotte?
A: As a career Army officer and military police officer, my life has been dedicated to safety and security, as well as constant study and self improvement. I saw this position as the perfect blend of my skills and passions.
Q: What is the best piece of advice you have ever received?
A: You can't lead people by trying to copy someone else — be yourself.
Contact Information
Phone: 704-687-8454
Email: jbogdan1@charlotte.edu